PROMT Syntactic and Semantic Analyzer
PROMT Syntactic and Semantic Analyzer is a Windows program that performs a deep morphological, syntactic, and semantic parsing for a given text in natural language. The following languages are supported as of October 2012:
English
French
Spanish
Italian
Portuguese
Russian
PROMT Syntactic and Semantic Analyzer interprets sentences of any level of complexity and nesting. As PROMT has been developing machine translation (MT) engines for over 20 years, it has created advanced algorithms for natural languages analysis that can be used not only for MT but also for data mining, text search, and abstracting systems.
The default linguistic database contains 30+ million word forms and allows entering new words and patterns such as new semantic classes or user-defined syntactic patterns. The toolkit for entering new classes and patterns can be delivered to the client together with PROMT Syntactic and Semantic Analyzer.
The default output from every given sentence is as follows (and can be extended, if needed):
Borders of a composite sentence
Borders of clauses within the composite sentence
Syntactic groups within the sentence (noun groups, verb groups, etc.)
The output for every lexical item:

Part of speech (noun, adjective, verb, etc.)
Grammatical form with extended morphological and syntactic characteristics. For example:

For nouns: gender, number, semantic marker, animate/inanimate object, etc.
For verbs: person, number, tense, gender, voice, mood, reflexivity, transitivity, semantic marker, etc.

Syntactic role in the sentence (subject, predicate, object, etc.)
Initial form

Identification of special lexical items such as people, dates, locations, etc.
The output format is XML which can be easily analyzed. The product kit also contains a tool to visualize the analysis output for human expert evaluation.
Example
Republican candidate Mitt Romney won the first of the three TV debates with President Barack Obama, polls and commentators suggest.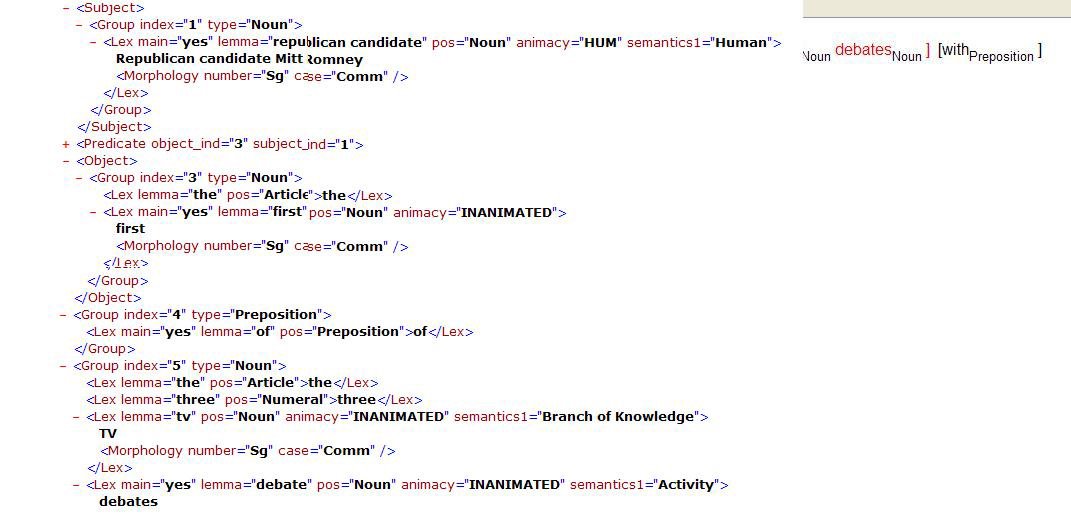 Contact PROMT
About PROMT
PROMT is a world leading provider of automated translation software. The company develops PROMT translation software and dictionaries that have received numerous awards from leading computer magazines. PROMT offers translation solutions for the home and business use, as well as for Internet and corporate intranets.
PROMT provides machine translation for 16 languages: English, Russian, German, French, Spanish, Italian, Portuguese, Chinese in two variants, Ukrainian, Kazakh, Turkish, Bulgarian, Latvian, Japanese and Polish, with a total of 64 translation directions
The Ukrainian, Latvian and Polish language pairs included in the PROMT solutions are developed by Trident Software.