PROMT Translation Software and Dictionaries: Case studies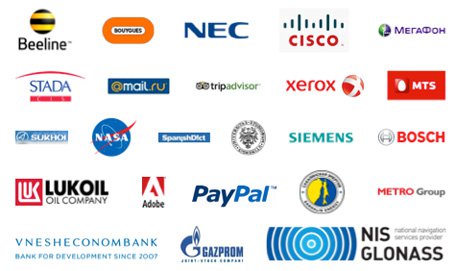 Using PROMT for Localization at PTC, Inc. (PDF format, 100KB)
Benefits of using Machine Translation (MT) in the software localization process, based on the example of PROMT Translation Server implementation at PTC, Inc.

Using PROMT in the Educational Process at Concordia University (PDF format, 182KB)
PROMT translation solutions help students in Canada's Concordia University to learn Machine Translation.

PROMT Helps the Biologists of Duke University (PDF format, 473KB)
"PROMT Professional 9.5 translator, with a collection of dictionaries, allows me to cope with many things much quicker and more effectively."
Professor Cliff Cunningham, Duke University's Biology department

PROMT Translation Solution for TripAdvisor (PDF format, 1,8MB)
"PROMT helps us to deliver the experiences of English-speaking travelers to our Russian-speaking audience."
Lorna Whelan, Senior Manager, Localisation, TripAdvisor

PROMT Translation Solution for PayPal - Case Study (PDF format, 302K)
"PayPal localization team has successfully integrated PROMT MT solution in the translation environment and has been using it in production for almost 2 years for a number of languages."
Olga Loskutova, PayPal MT specialist

Translate.Ru API helps teach and translate Spanish and English on SpanishDict.com (PDF format, 162K)
"Use of online translation considerably increases competitiveness of the service."
Chris Cummings, CEO of SpanishDict

PROMT-Adobe Case Study: Best Practices in Integrating Authoring, Globalization Management and Machine Translation (PDF format, 527K)
"PROMT has helped Adobe gain significant translation efficiencies, especially for structured content where translation volumes are high and content changes frequently. "

PROMT Translation Server on LUKOIL Enterprise Portal (PDF format, 270KB)
"We think the purchasing of the PROMT system is the best solution of the problem that the company was facing."
Sergey Tolstokhlebov, the LUKOIL-INFORM head for development of enterprise portals and internal automation

NIZHPHARM Uses PROMT in the Cloud (PDF format, 270KB)
"We selected PROMT Cloud because its format allows us not only to satisfy our user needs, but also to save computing capacity and release our IT specialists to perform other tasks."
Yevgeniy Andreyevich Tyulenev, Director of IT, NIZHPHARM

The PROMT solution provides Polymetal Engineering branch offices with translation (PDF format, 152KB)
"Any employee of the company has access to the machine translation. It is very convenient: by means of PROMT it is possible to quickly gain general sense of a document, a letter or news on a web site."
Igor Epstein, the associate director on engineering

Norilsk Nickel Uses PROMT for International Contacts (PDF format, 167KB)
"Use of PROMT solution allows the Norilsk Nickel employees working with documents in foreign languages more quickly and effectively."
Igor Yezhov, the head of IT Department

PROMT solution helps employees of the ISHBANK to translate financial documentation (PDF format, 134KB)
"Document flow in foreign languages sharply increased after we became a part of a foreign bank."
Alexey Stoletov,the managing director of the branch

@promt Office 8.0 is a great complement to foreign language studies (PDF format, 99K)
"@promt helps me learn the Russian that people actually use, as opposed to the sometimes stilted and artificial conversations in textbooks."
Daniel Weisbaum, IT engineer
Germany

@PROMT Professional 7.0 helps to increase profits for translation firms (PDF format, 63K)
"@PROMT learns my translation style," says Alain. "It's the perfect employee - it requires no salary and is on duty 24x7."
ACS Production, owned by Alain Champagne, specializes in the translation of manuals.
France

@PROMT Professional 7.0 brings benefits to a freelance translator (PDF format, 215K)
"My productivity has improved by almost 35% since adopting PROMT."
Patrick Roye – freelance translator
Germany

Using PROMT Translation Programs for Academic Work (PDF format, 716K)
"I have conducted several years of research, including numerous repeated tests and have come to the conclusion that PROMT is currently the best translation product in the marketplace."
Itamar Even Zohar, Ph.D.
Professor, Unit of Culture Research
Tel-Aviv University
Israel

PROMT Automated Translation Technologies for autolot24 International Internet Car Exchange (PDF format, 965K)
Taking the concept of overcoming language barriers by means of on-line translation, autolot24, a unique international Internet car exchange has been established. After just one month of operation, the company is already reporting high levels of interest from large foreign companies engaged in car sales. This innovative international project was only made possible with the machine translation technology developed by PROMT.

Business Communication at the Transnational Level (PDF format, 1067K)
"Thanks to the implementation of PROMT's corporate solution, we have made great strides towards the creation of a universal translation system in the company", says Vitaly Gordunovsky, E-Commerce Project Manager at Bosch Russia. "As a result, translation takes place in real time. Today, we can confidently say that our company has made the right choice of both solution and solution provider".

PROMT Opens the Door to MSDN Library for Russians (PDF format, 110K)
PROMT created a unique English-Russian online-translation service for the Microsoft Developer Network (MSDN) Library. The MSDN Library is an extensive resource of technical information created by Microsoft for developers using Microsoft applications and development tools. At the request of Microsoft's Russian branch, PROMT developed a special service for English-Russian translation of the documentation in the MSDN Library. The innovative nature of the translation method, combined with the unique nature of the solution, made this joint project a great success and has raised the bar for machine translation quality in all markets.

PROMT developed a specialized translation system for Xerox's Russian office (PDF format, 118K)
PROMT has equipped the Russian branch of Xerox with a fully functional translation software installation and advanced customization options and self-learning capabilities. Xerox purchased @promt XT Professional translation software for its service department employees and PROMT for TRADOS (P4T) for in-house translators. This combination of solutions has enabled the company to adapt a large volume of specialized literature to global markets in an efficient and cost effective manner.
Toll: 1-415-913-7586
Toll Free: 1-877-595-5181
Recent awards
The test laboratory of PC Magazine/Russian Edition marks
PROMT IT and telecommunications
as the product which received the highest score of experts at laboratory tests.
PC Magazine/Russian Edition
June 2013
PROMT SMB was named the best by
PC Magazine/Russian Edition
.
PC Magazine/RE
November 2012